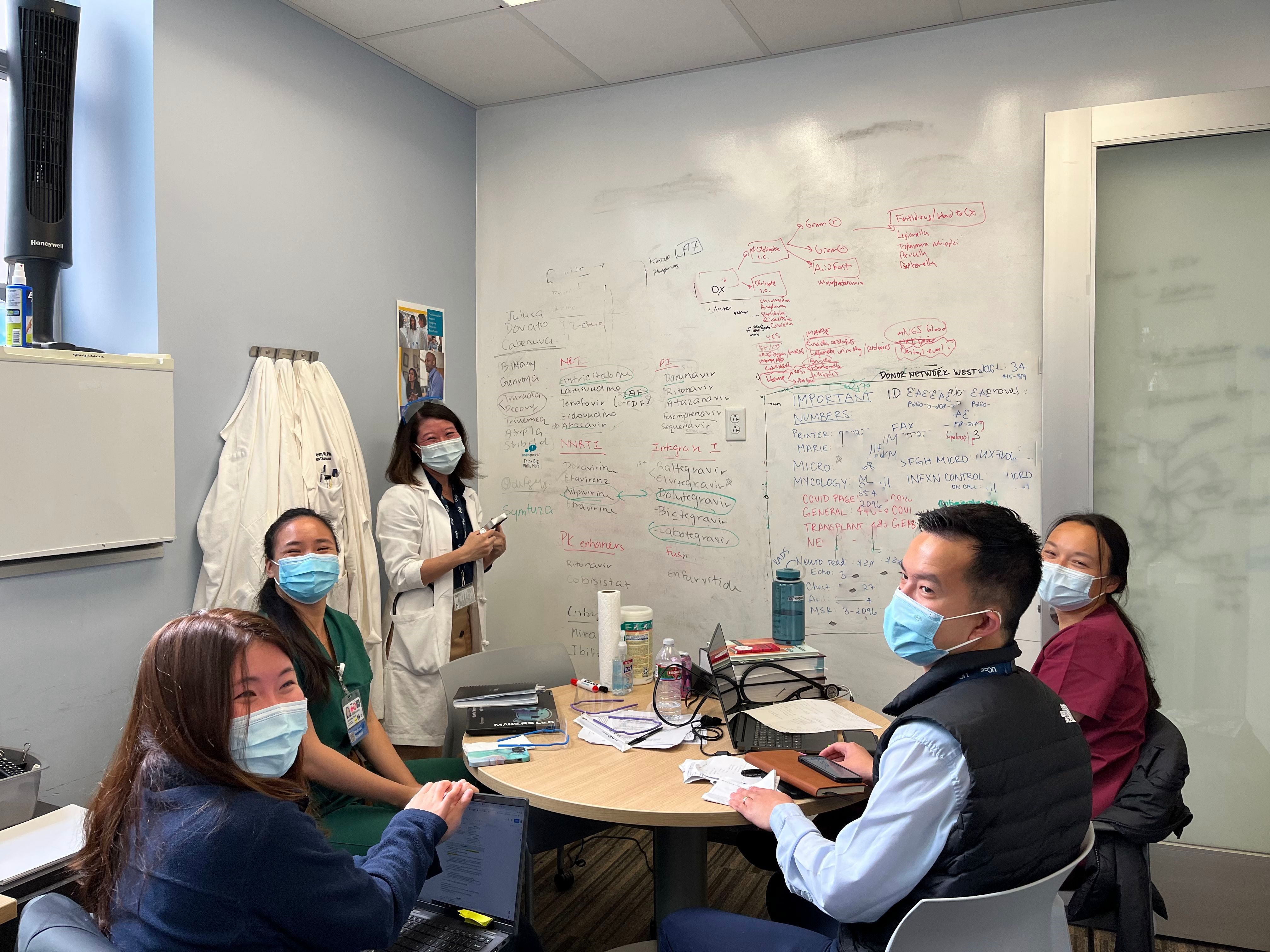 The second-year is devoted to (1) enhancing the fellow's clinical expertise in the care of immunocompromised hosts (with and without HIV infection), (2) obtaining formal training in medical education, and (3) engaging in scholarly activity.
The clinical program in the second year includes inpatient time on the HIV consult service at San Francisco General Hospital as well as additional dedicated time on the Transplant Infectious Diseases Consult Service at UCSF Medical Center. Ambulatory experiences include an HIV continuity care clinic at San Francisco General Hospital ("Ward 86") as well as Transplant Infectious Diseases Clinic at UCSF Medical Center. Formal training in educational methods may be obtained through the Pathways Program for Health Professions Education. Scholarly activities include development of educational curricula, clinical research, writing a scholarly review, and/or participation in quality improvement projects. Fellows will have access to internationally renowned medical educators within the Division of Infectious Diseases and Department of Medicine, as well as the larger UCSF community.
Clinician Educator Track FAQs
How does the first-­year of fellowship differ for the CE Fellow? First year of fellowship is the same for CE and Research Tracks.
How does the clinical experience in the second year of fellowship differ from the first? The second year is very different from the first year; it is focused on the care of the HIV and non-HIV immunocompromised host and training to become a master clinician and educator.

Inpatient clinical experience:

Transplant ID consult service - 2 months
HIV consult service - 2 months

Outpatient clinical experience:

HIV Clinic at ZSFG ("Ward 86")
ID Clinic (General and Transplant) at UCSFMC
Other: HIV-HCV Coninfection Clinic (Ward 86), STD, TB, etc.

How will the CE fellow learn about medical education? Most fellows will apply and be accepted into the Health Professions Education (HPE) Pathway Program, a one‐year program dedicated to providing learners with a strong foundational understanding of medical education. There is a one-­month intensive in class learning program and support for an educational research project.
What hands on teaching experiences will the CE fellow have?

Small group leader during first­‐year medical student microbiology course
Provide didactic lectures on clinical topics for students, residents, and CME courses
Dedicated time for teaching residents/students on inpatient rotations

Will the CE fellow be involved in scholarship?

CE fellow will be required to generate a scholarly project in medical education to enroll in the HPE Pathway Program
CE fellow will be encouraged to take on clinical research projects, case reports, etc.

How will the CE fellow get experience in educational leadership?

The CE fellow will serve as a Chief Fellow in year 2 of fellowship
The CE fellow will have opportunities to take additional training in leadership

Will the CE fellow be supported to travel to conferences? Yes.

ID Week
Other depending on research: Western Group on Educational Affairs of the AAMC (WGEA), American Conference for the Treatment of HIV (ACTHIV), etc.

Will the CE fellow be able to influence their clinical experience in the second year? Yes, there can be flexibility in outpatient and potentially inpatient clinical experiences.
 What other areas of focus during the clinician educator year would be possible outside of medical education?

Infection control
Antimicrobial Stewardship
Quality Improvement

Will the CE fellow be able to stay for a third year? This is a two-­year program, so to stay for a third year the fellow would need to apply and obtain funding to continue training (usually research) during a third year.