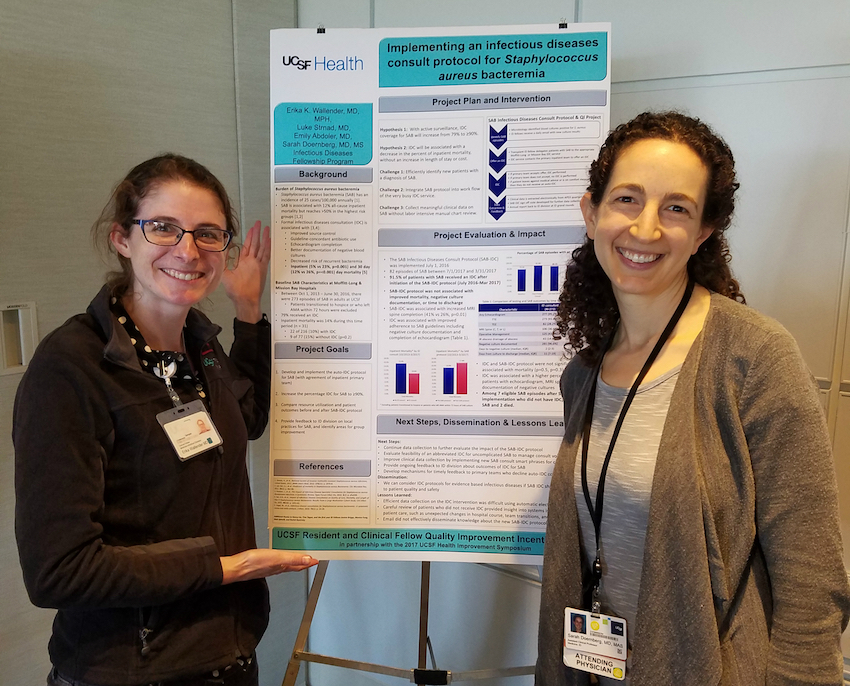 The second year and beyond are devoted to research in the fellow's area of interest under the guidance of a faculty preceptor.
Research training opportunities are vast and are available in the fields of clinical, translational, and basic laboratory sciences. Fellows are guaranteed support for two years of research, although many go on to pursue additional time in their research training positions. A variety of NIH-supported training grants support ID fellows during this period, such as the UCSF Biology of Infectious Disease Training grant, the Training in HIV Translational Research training grant, and the Traineeship in AIDS Prevention Studies. Depending on the specific training grant, interested fellows may also undertake coursework at the UC Berkeley School of Public Health (for a Masters of Public Health), as well as the UCSF Department of Epidemiology and Biostatistics and the Clinical and Translational Sciences Institute Training Program (towards a Certificate Program or a Masters in Clinical Research). In addition to several University-wide and Division-sponsored research colloquia that occur during the year, the Division of Infectious Diseases sponsors an annual Biology of Infectious Diseases research retreat, where fellows and junior faculty present their research works-in-progress to a wide array of faculty and trainees.
We recommend that applicants identify potential areas of research prior to the interview. During the interview process, we will attempt to make connections between applicants and potential mentors and research areas of interest. In addition, we hold a variety of sessions prior to and during the first year of fellowship to help fellows choose the appropriate mentorship team and projects. The research mentor then works closely with the mentor assigned from the ID training program to ensure fellows' success.
A partial list of potential research areas:
HIV

COVID-19

Malaria

Tuberculosis
Microbial Pathogenesis

Public Health

Emerging Infections (Epi Center)

Molecular Diagnostics 
Antimicrobial Stewardship/Infection Prevention

Transplant Infectious Diseases

Medical Education
View the Research page for more details on research areas and mentors: ID Research